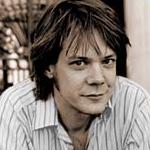 | | |
| --- | --- |
| Full Name | David Anthony Pirner |
| Birthdate | April 16th, 1964 |
| Birthplace | Minneapolis, Minnesota |
| Position | Frontman; lead vocalist, guitarist |
| Instruments played | 1982 Fender Telecaster, acoustic guitar, saxophone, trumpet, harmonica, piano, drums, kazoo |
| Duration in band | 1983–present |
Trivia
Wrote a song entitled Soul Asylum (not the one on Time's Incinerator) which came from a dream he had. Nobody in the band (then Loud Fast Rules) liked it, but they liked the title and took that as their new name.
His entry into music was in the third grade playing trumpet for the school band.
The first band he was in was called "The Schitz", a punk rock band which he sang and played guitar.
Originally started out as drummer for Loud Fast Rules.
Was in a shortlived supergroup, The O'Jeez; which also featured Kraig Jarret Johnson and Jessy Greene.
Lived in New Orleans for 17 years, where he recorded his solo album Faces & Names.
Sang Black Star with Minneapolis songwriter Wain McFairlane on his 2001 album That Was Then This Is Now (which also incuded Wain singing Dave's solo song I'll Have My Day).
Did the score to the 1997 film Chasing Amy.
Is a good friend of actor/director Kevin Smith.
Once dated actress Winona Ryder (who also starred in the Without A Trace music video).
Has a small part in the 1994 movie Reality Bites (starring Winona Ryder), where he plays the character Phineas.
Played hockey in grade and high school.
Lent his voice as Paul McCartney's for the 1994 movie Backbeat.
Released a book on March 17, 2020 entitled, Loud Fast Words: Soul Asylum Collected Lyrics which contains almost all of his Soul Asylum lyrics which have been released up to 2020's Hurry Up and Wait.