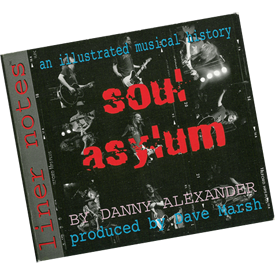 The book itself is an unassuming thing. No larger than a regular jewel case, considerably slimmer than your average mass-market paperback, and low-key in its grunge-inspired aesthetics, it hardly commands much attention at first glance. It's not hard to imagine this book being overlooked for its modest appearance. Flipping through its pages, however, it doesn't take long to realize that Liner Notes: Soul Asylum has just as much spirit as the very music it describes.
In 1995, when Soul Asylum were playing arenas, releasing the follow-up to a platinum-selling album, and doing a million other things that were sure to make any number of fans scream "sell-out", a writer from Kansas City was wrapping his head around the Soul Asylum phenomenon, trying to put together a book about a band that didn't want to be in one.
"I think they saw it as pretentious," author Danny Alexander explains. "They were terribly conflicted about selling themselves, and I'm sure it felt premature in terms of them being a band on the American mainstage.
"On top of that, Rolling Stone had just run a cover story that didn't make the band look very good. Dave seemed to be pretty trashed throughout the story and acted out in some trivial but embarrassing ways. They were very spooked by the press after that, and weren't in the least bit interested in working on a book with anyone."
In the summer of 1996, however, a book did show up on store shelves, the result of a work process that began right around the peak of the band's fame.
The Initial Challenge
Danny Alexander was given the assignment by Dave Marsh, former editor of Rolling Stone. Dave was planning a series of musical biographies called Liner Notes and had compiled a list of artists that would be suitable subjects. When presented with the choice, Danny jumped at the chance to write about Soul Asylum.
"I thought I had a unique perspective to write about them," he says. "I was about the same age as the band, and we were all part of that generation that was inspired by the punk uprising of the late '70s. So, in that sense, I was one of them.
"But perhaps more importantly, I didn't feel like I had stayed there, and I felt like that was a bond with something I heard from the group. We were the post-punk generation, but after 15 years or so, our interests extended way beyond garage guitar bands.
"I tended to gravitate toward the music that many of the critics around me ignored, in part because I was always examining my own biases. I'd been inspired by and bullied by rock snobbishness in my younger years, and I'd found a reason to write in countering that. Soul Asylum always seemed to me like a band that tried to overthrow the same kind of stifling mentality in its own scene."
So Danny had made his choice, but the band didn't seem to be on the same page. He couldn't reach the band directly, but their handlers told him they would do no interviews for a book.
With meager hope of cooperation on the band's part, prospects looked bad. Danny didn't give up just yet, however; he knew writers and musicians in Minneapolis and tried to work some connections.
"I struck gold when I found a source very close to the band who had access to their small press archives, going back to the very beginning. I drove up to Minneapolis for a weekend and—all under absolute secrecy—was allowed to access the archives for several hours, so I scrounged hard for anything and everything I might need. By the time I returned to Kansas City, the book was beginning to take shape in my head."
Jotting It Down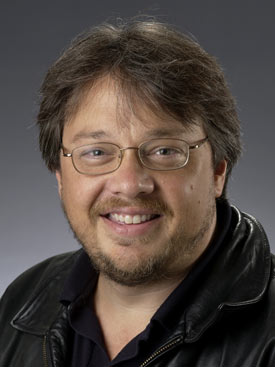 With the help of his covertly acquired source material and a copy of everything the band had ever done, Danny had more than enough to begin writing. At this point, he had already thought up an outline.
"I knew I wanted to start with the tour opener I saw in Lincoln, so the book would be framed by Let Your Dim Light Shine," he explains. "I also knew I needed a good chapter setting the band in the context of that fascinating history of Minnesota rock that gave us, indirectly I guess, 'Like A Rolling Stone' and 'Surfin' Bird,' long before it gave us the strange combination of Hüsker Dü, the Replacements and that entire world Prince created. Then I had two or three thousand words to devote to each of their albums, the story behind it and then an analysis of the songs themselves.
"Dave Marsh was a huge influence, so I approached it similarly to the way he approached his biographies, but I don't think he gave me much specific direction. After I wrote the draft, he gave it a thorough but fairly painless edit."
One of the elements of Liner Notes that puts even some of the more comprehensive musical biographies to shame is Danny's extensive personal interpretations of the band's every album, as well as the songs on them. At times, they read like something the band may well have found pretentious, whether accurate or not. Danny was well aware that his reflections might not always match those of fans.
"I think the job of someone writing about music is to try to be as honest and imaginative as you can be about describing something that all but defies description," he says. "I saturate myself with the music, and I try to draw the picture of what I hear and feel as well as what it makes me contemplate. I can't worry too much about whether or not the artist would agree with me or whether other fans would agree with me. All I can do is grapple with the stuff as best I can from my perspective."
A Background In Writing
Apart from elusive sources of information and the pitfalls of interpreting a band's entire discography, work on the book presented Danny with another challenge: at roughly 20,000 words, it was several times longer than any feature story he had written in the past. Luckily, he had previous experience in music journalism that no doubt made him more prepared for the task. Danny's first job in writing was a correspondence with Rock & Roll Confidential (or RRC, now Rock & Rap Confidential), a newsletter that Dave Marsh started after leaving Rolling Stone.
"Marsh had been my favorite writer at Rolling Stone since I was a teenager," Danny says. "It felt like he spoke for me as much as to me, like he was trying to break down the walls that separated music fans from each other as well as between musician and fan."
Danny's work on RRC gained him experience as well as contacts. When he got out of school and moved to Kansas City, he and a few of his colleagues started their own local version of the newsletter: A Sign of the Times. Every now and then, he also contributed to the daily paper. From there on, his professional life took off with a clear focus on writing.
"For about eight years before Liner Notes, I wrote about all kinds of music for all of those formats on a regular basis. It seems a little manic to me today, in fact. I worked on just about every Kansas City paper that covered popular music, and I wrote other kinds of journalism as well."
Reception and Cancellation
Liner Notes: Soul Asylum, together with George Strait and Neil Young, were the first installments of a series of musical biographies that was never heard from again. Sales figures weren't the cause, it seems; about 25,000 were printed and distributed—not bad in that industry, according to Danny. Rather, it was a conflict of interest that led to Liner Notes being scrapped.
"One of the artists and the publisher both worked for the same company, and there was an attempt to edit one of the books to put the artist in a better light," Danny reveals. "This was a very, very sensitive concern, because there was nothing particularly negative in the book." Note
By the time Liner Notes hit the shelves, the entire series was suspended.
"One day, a publicist was talking about all the promotion we were going to do; the next day, none of us could get those folks on the phone. It's far too typical of the entertainment industry in this country—shades of Soul Asylum's relationship with A&M."
Danny also had to prepare for the risk of negative reactions from the fan community. He knew beforehand that Liner Notes was made of stuff that some fans might dislike: some of the band's work is given less than favorable reviews, and Danny is not afraid to describe and go into detail about even the episodes in Soul Asylum's history that band members and fans would not put down as high points.
"But the feedback I received was generally very favorable," he admits, "from a relatively wide cross section of readers. I never heard a specific complaint."
In the end, perhaps, the most memorable comment he received was from Dave himself.
"He was playing a club in Lawrence, Kansas, with his side project The O'Jeez, and I walked up to him at the bar and introduced myself. He laughed and told me the friend to his left had just been bitching about my book, and he was defending me to him. I remember Dave's argument with him being that I didn't write it for that guy. And that was probably about right.
"Dave invited me to sit on his right, and we talked for hours that night. He's a wonderful guy—smart and funny and sweet, just as you'd expect him to be."
Danny Outside of Liner Notes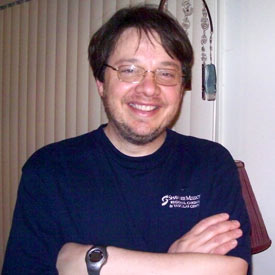 Just like the artists he covered in Liner Notes, Danny is still working on his craft after more than twenty years of doing it.
"I quit my local music writing job in 2001 to focus more on the many other things I never seemed to have time for. Today, I still serve as associate editor of RRC and contribute both reviews and features to each issue. I occasionally do freelance stories for various publications, but I tend to be pretty choosy about the deadlines I give myself. I'd rather do a few things well than spread myself too thin. I have a blog where I write semi-regularly and I am a somewhat frequent contributor to the music webzine Living in Stereo. I also write fiction, trying to sell one novel and working on another."
Even then, writing is not the be-all and end-all of Danny Alexander. He points out that career opportunities in journalism are terribly limited, and that writing is frequently a passion that requires a day job. For Danny since 1987, that job has been as a teacher of writing.
"I get to teach everything I know about what I do best every day, and my work with my students benefits my writing in many ways: it keeps me aware of how music, for instance, affects different lives in different ways in an ongoing way, and it also makes me better at communicating with others."
"Of course, there are all kinds of things I would change about the job if I could," he admits, "but it's a great trade-off between my writing and teaching. I teach what I do, and I learn a great deal from my students."
Twelve Years Later
A decade after its publication, Liner Notes remains an appreciated part of the Soul Asylum fandom, and Danny seems to feel quite good about it as well, despite a writer's urge to improve it further.
"I am my own worst critic," he says. "I'm sure I'd change a million things about it if I were to give it another rewrite. But I'm happy with the book overall. I think it's a unique, provocative and thoughtful analysis of the band.
"Marsh often jokes that he's waiting on my follow-up," he adds. "It's only been twelve years."
Of course, being a part of the very audience that Liner Notes was written for, I don't let the opportunity pass me by to get hold of at least an unofficial continuation of the book. Right before the interview comes to a close, I ask him his opinion on Soul Asylum's latest effort: The Silver Lining.
"It's such a beautiful album," he immediately points out. "It never sounds pretentious but hits hard as hell on everything at the same time. It's so clear that the war in Iraq, Hurricane Katrina and Karl's death inform every note of that record in one way or another."
Danny expresses sincere admiration for all of the songs on the record, emphasizing the way they touch on every facet of the real world and how they speak to the listener.
"That's what's so great about Dave's songwriting: he finds a way to personalize everything, and so he never really preaches or overreaches. In the end, the album finds a kind of hope in the fact that people are imperfect and do let you down but keep trying to find our way out of this mess despite insurmountable odds."
He describes the portrayal of the American tragedy through Standing Water, the painful realization in Crazy Mixed Up World of so much misfortune taking place with the silent consent of so many, and the irony of All Is Well sounding like a postcard to Karl, with Dave actually being the one in hell with the rest of us. He clearly expresses how deep into the darkness the record goes but then points to the redeeming qualities offered up by Good For You, and how they bring a kind of balance to the album.
"I think that's what's great about Soul Asylum in a nutshell," he sums it up. "They've never taken refuge in cynicism, and they've never oversimplified anything. They make music that sounds like life."
Written by Jakob Kallin
If you can't get enough of Danny Alexander, be sure to check out our bonus material: an unabridged collection of quotes from the full interview, with Danny talking about everything from Soul Asylum's time in the limelight to his view on the American music scene.
You can also drop by the forum and discuss the article as well as the book together with fellow fans.
Note: Danny takes care to point out that the artist involved was not Soul Asylum. Reference