It's been exactly one year since the launch of EnterTheSoulAsylum.com and thanks to all of the fine people who keep coming back here, the site is just as vibrant and active as ever. What follows is a sweeping look at some of what has happened over the last twelve months.
Forum
The heart and soul of this site, of course, is the forum—and it's doing great. It's a rare day that doesn't see a fair amount of activity, and our member count is currently at 229. On average, there have been a topic created slightly more often than once per day. Likewise, the average number of posts per day is approximately 11.
Search Engines
We're thrilled that our ranking in search engines has dramatically improved since we launched the site. A Google search for Soul Asylum currently places us just after the band's official site, their Wikipedia entry, their MySpace profile, and their page on Twin/Tone, which is brilliant—and if you put the search term in quotes, it gets even better!
Website Traffic
Traffic to the site seems to have gradually increased over time. Then again, our total number of visitors is still relatively small, so making any kind of sweeping predictions and analyses is very difficult. For what it's worth, here are the traffic statistics for this past year:

Website traffic statistics are a complicated topic, and due to several factors it's not easy to get an entirely accurate account. No matter what metric one uses, however, EnterTheSoulAsylum.com seems to be enjoying its highest popularity so far, no doubt thanks in part to all of the shows put on by the band during the summer, as well as the link that they graciously provided from their MySpace profile some time ago.
Just out of curiosity, we also generated a report on where our visitors are from. Not surprisingly, most of our visitors turned out to be from the United States, but we still received a sizable amount of traffic from Europa and Asia—the Netherlands and Japan in particular.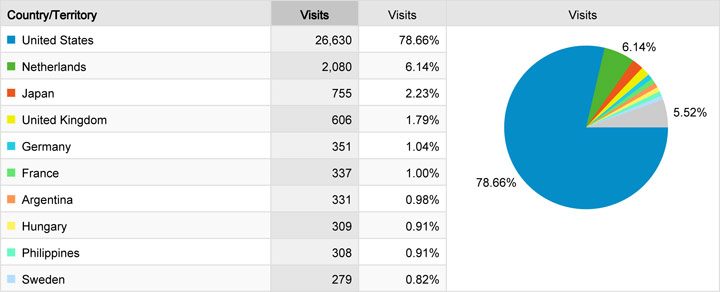 Other Delights
Over the past year, we've sporadically added to and improved the site. Some features are currently being hammered out and implemented while others are still just ideas, and our schedules don't allow for us to always spend quite as much time on the site as we would like. Rest assured, however, that work continues on making this site the very best it can be. In short, just like the band, we're doing the best we can, with or without a plan.
We could spend days talking about everything else that has happened in the past year and all of the ideas that we have for the future, but we don't want to get long-winded—and we also want to get this article out sometime today!
It is our hope that the site will continue to evolve the way the band seems to have over the course of their career, constantly moving forward but not forgetting the journey in favor of the goal. The site will never be "complete", just like the guys in the band will always have one more song to write. Neither of us could do all of this without people who appreciate what we do, of course, so we thank you yet again for keeping us company and making this a community that one can be proud to be a member of.
– Jakob Kallin and Jim Metz