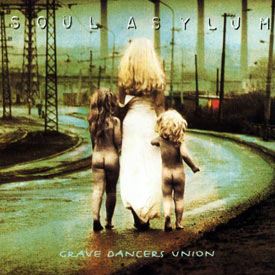 | | |
| --- | --- |
| Release Date | October 6th, 1992 |
| Producer | Michael Beinhorn |
| Label | Columbia |
| Formats | CD, cassette, vinyl, MiniDisc |
| Length | 44:53 |
Trivia
Included many tracks performed by Sterling Campbell on percussion, despite Grant Young being the lead percussionist at the time.
Its cover features the 1970 motif Fate Descends Towards the River Leading Two Innocent Children by Czech photographer Jan Saudek that was featured in the book Life, Love, Death & Other Such Trifles.
Was certified double platinum (2 million copies sold) in 1993 and has since gone triple platinum.
Charts
Peaked at #11 on the Billboard 200 chart.
Peaked at #1 on the Billboard Heatseekers chart.
Images
Back Cover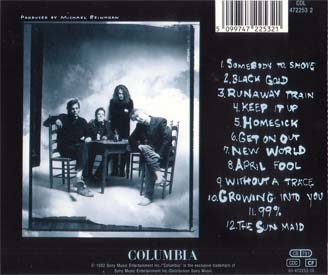 CD Label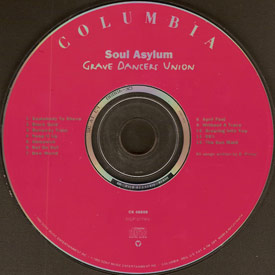 Alternate CD Label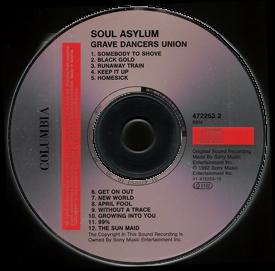 Credits
Additional Engineering
Eric Anderson, Pachyderm Discs and Bruce Robb, Cherokee
Additional Recording
River Sound, New York; Pachyderm Discs, Cannon Falls, Minnesota; and Cherokee Studios, Los Angeles
Art Direction and Design
Francesca Restrepo
Assistant Mix Engineering
Steve Sisco, Craig Doubet
Assistant Recording Engineering
Dan Gellert, David Michael Dill, Bill Smith
Band Photography
Scott Wippermann
Engineering
Chris Shaw
Front Cover Photograph
Jan Saudek, from the book Love, Life, Death & Other Such Trifles
Management
Addis/Wechsler & Associates, Los Angeles, California
Mastering
Wally Traugott at Capitol
Mixing
Andy Wallace, except The Sun Maid mixed by David Leonard, at Quantum, New Jersey and Scream, Los Angeles
Recorded
At the Powerstation, New York
Special Guest Appearances
Booker T. Jones (Hammond B3 organ); Sterling Campbell (percussion); Michael Beinhorn (glockenspiel and celeste); Gary Louris and Kraig Johnson of the Golden Smog Choir (background vocals on April Fool and Keep It Up; strings on The Sun Maid performed by the Meridian String Quartet; strings arranged by David Pirner, Michael Beinhorn and Sonny Kompanek; conducted by Sonny Kompanek
Gary Louris appears courtesy of Dep American Records
Kraig Johnson appears courtesy of Run Westy Run