Discovering a new passion can happen in many different ways—something that geography student Jim (known on the forum as Monolith Maniac) has experienced firsthand. Throughout most of the '90s, he had no idea who Soul Asylum were, and his path toward ultimately discovering the band started from the music of a completely different kind of artist.
As a child of suburbia in Chicago, Illinois, Jim was a typical teenager who would come home after school, do his homework, and hang out with friends. For a long time, his musical taste consisted mainly of old '50s and '60s tunes borrowed straight from his parents' record collection. "I could name every song that came on the radio and I knew all the lyrics," he tells me as we meet online one Sunday in the middle of September, over a seven-hour time difference. "And the strange part," he adds, "is that I still remember all of them."
But parental influence only counts for so much; just like I eventually escaped from the grip of my mom's Queen and my dad's The Police, so did Jim discover music of his own. One artist in particular appealed to him.
"'Weird Al' Yankovic probably has the spot for my first CD bought," he reveals. "I think it began more or less in 1990. I was eight and my older brother owned one of his albums: Off the Deep End. I didn't have a CD player back then, so I'd listen to it on my brother's stereo. I ended up listening to it more than he did."
Fast-forward a few years and Jim gets to suffer through the joys of adolescence just like every other teen. But more importantly, the late '90s also brought him an entirely new musical discovery. On May 23rd, 1996, Weird Al ran a parody special on MTV, featuring many of the most popular songs of the time. "I was still a huge fan of his," Jim says, "but when Runaway Train came on, I just couldn't get enough of that catchy chorus. And it wasn't just the music—the footage of Dave performing the song really helped grab my attention too."
"That might sound a little odd," he explains, "but I'm being honest. I guess you could say I'm just another freak. I soon found out that I wasn't alone; it came along with being a big fan of Soul Asylum, as we are freaks."
"But don't quote me on that last part," he jokingly adds.
Still stuck in a world entirely devoid of YouTube, Jim recorded the show and watched that same tape over and over again. After a week, he decided to buy the song on CD so that he could listen to the whole thing. "I bought my first boom box just so I could play Grave Dancers Union," he says, "and that player was stuck on track 3 for a week."
But the moment Jim started exploring the rest of the album was where things really started to develop. Grave Dancers Union sat in his CD player for four months straight. "After school, I would listen to the whole thing from beginning to end. I'd work slow on my homework just so I could I hear The Sun Maid."
A New Passion
Grave Dancers Union was growing into Jim, but Soul Asylum still couldn't take the place of Weird Al. Consequently, when the satirist musician released his new album Bad Hair Day, Jim was quick to get hold of it.
"However, it didn't really hold a place as much as his other albums did," he admits. "There was only one song that I really liked."
A bit let down by Weird Al's latest effort, Jim decided to see what more Soul Asylum had to offer. He decided to buy Let Your Dim Light Shine and give it a spin. "And lo and behold, the first song that plays was the very same song that I had liked so much on Bad Hair Day," he says. Jim checked the booklet for Bad Hair Day and found what he had suspected: "Syndicated Inc. – parody of Misery, written by David Pirner".
"And I just felt that this was the band," he says.
While Let Your Dim Light Shine signaled the end of Soul Asylum's commercial success, it was only the beginning for Jim. He describes his growing feelings for the band with enthusiasm: "I could understand the lyrics and they actually had meaning, and I was caught on by some of Dave's clichés. By the time Candy From A Stranger came out, they were already my favorite band."
Right around this time, Jim found out that Grave Dancers Union wasn't Soul Asylum's début; it turned out they had an entire back catalog, and he was quick to collect it. "When they came to Chicago on tour with Matchbox Twenty and Semisonic, I knew all their songs," Jim proudly states. "I bought the tickets over a month in advance."
What the Future Holds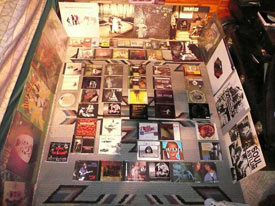 While Soul Asylum went on what would become a seven-year hiatus between albums, Jim's interest in the band remained. He continued collecting CDs and merchandise and going to their shows. Over the years, he has met the guys themselves numerous times, and his impression of them has been undividedly positive. "They're definitely not like a lot of bands," he explains. "They talk to all the fans, sign autographs, and just like to chat. They're very friendly and casual around people."
There's an old saying that goes something like, "Never meet your idols," because it will undoubtedly change the way you look at them. For Jim, however, this shift of perspective has only been for the better. "Meeting them hasn't really affected how I look at the music," he describes, "but when I talk Dave and Dan, I've sometimes thought, 'Wow! How do all those lyrics come out of those brains of theirs?', because when you talk to them, they seem so much more mellow and down to earth."
"I think talking to them and getting to know who they really are have only made me like them more," he expresses.
When asked where he thinks Soul Asylum will be at in 10 years, Jim answers with optimism. "I don't think that they will ever truly break up. Karl held them together, and I believe he will continue to do so."
"As for me," he replies when I ask the same question about himself, "I'll hopefully have a career in meteorology or GIS. I'm currently getting my master's degree in geography & environmental science, which holds the spot for my first passion."
"And I definitely see myself still listening to Soul Asylum," Jim concludes.
Written by Jakob Kallin